12 Dec

Showcase Review 2019
Venue: Hobourne Devon Bay, Paignton
Dates: November 18th. & 19th. 2019
Producer: Paul Winteridge Reviewer: Mike Martin
From https://www.ukcabaret.com/
SESSION ONE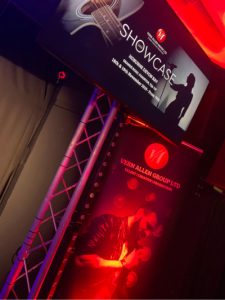 The first of a mammoth two night session which pitched through 18 acts without a break… wow… but it was slickly staged, dressed with attractive, friendly staff and a contemporary hi-tec ambience, plus a fabulous cabaret room with superb lighting. Meet and greet performers did their part; Royal Ts, Offbeat Dance, Gary Mac and Gary Jones, but it was only the latter who I experienced when he presented a swift and successful trick at my table.
Holding the night together was compere Noel Brodie who is a fine choice for such a role with his bright comic ability to keep things moving. His matey style with the punters works a treat and he can be counted on to step in and cover when things need to be smoothed over.
It all took place on twin stages at separate ends of the room, a strategy which worked well as audience attention switched alternately between acts like a Vegas tinted tennis match!
Party band Monotoniks opened the show. Their presentation is of today and the girl singer has a distinctive voice. She also looked like she was enjoying herself, unlike her musicians who adopted the bored persona which it seems is required in the current world to appear cool.
Chris Ritchie is vocally convincing as Frankie Valli in a medley of familiar hits, recreating that piercing falsetto perfectly. He looks sharp and almost makes a catchphrase out of his repetitive, "Let's see those hands!" However, he had a strange and unnecessary technical effect on his voice, as well as being visually quite stiff and robotic.
Recreating the 90's club vibe, Jodie Yang Cooper works largely from behind a large mixing console, but she is an attractive girl who sings and moves well when she comes out from behind it. The beat is relentless and best appreciated by those who knew that scene.
Billed as El Loco but appearing as Radio Grand Café, this is classic old school entertainment for which I have an intense soft spot. Working around a big cod radio set and numerous comic props, an expressive clownish waiter performs silent mime. It is engaging, refreshingly visual and I liked it, but it could have been funnier. Lots of scope there though.
A Lionel Richie tribute from Paul Sylvester was well received. Just two songs, Dancing on the Ceiling and Leaving, but he sells them with a pleasing charisma.
Lyndsey Cooper is a classy and accomplished vocalist who is really in control of her soaring voice and enthralled audience. She has a watchable stage presence too, proving she can handle styles encompassing Queen and Lady Ga Ga.
From the world of musical theatre comes a young and pleasant singer, Duncan Heather, but he can also ably cope with pop favourites like Come on Over to my Place. His Rain on my Parade grabbed attention too. Debbie Farrell is a seasoned performer and it shows as she commands the stage with a powerful presence. She looks stunning and is totally comfortable with her soul divas tribute. Tina Turner, Diana Ross and finally
Shirley Bassey… brave of anyone to attempt to imitate such showbiz goddesses, but Farrell nailed them all. For me, a true highlight of the night.
Believe a Bubble is pretty self explanatory… a welcome diversion of variety featuring inflated bubble sculptures, smoke and a little audience participation; all held together with a smile inducing camply comic presentation.
Arnold Gutbucket has seemingly been around forever, but he never fails to deliver an engaging spot of highly original comedy material, songs and parodies. Very much a one off, he maintains a pleasing warmth even when being totally off the wall.
Celebrating 60 years of Motown, Chris Quammie is a happy, beaming soul who emphasizes his professional journey from New York to Yorkshire. I was impressed by the strength and clarity of his voice. nRiptide, a 4 piece all male band, had the appearance of extras from Game of Thrones before visiting wardrobe. The lead singer certainly goes for it in high energy numbers like Let me Entertain You, as does the drummer who really drives them in their tight sound. That said, the front man does have occasional pitching problems, especially when he hits that falsetto.
Singer Lisa Walker has a striking image and is pleasing to the eye as well as the ear. Her Whitney Houston ballad received justice, in fact it was rather magnificent and brought the room to a hush, but Walker can also have entertaining fun with a novelty number too.
Comedy magician Danny Lee Grew made a novel entrance on a motorised skateboard, but his bumbling and engagingly friendly persona did little to mask the familiarity of standard tricks involving the customary cards, newspaper, bottles and handkerchiefs. It was all colourfully and competently presented however.
Sarah Skeet has a deep, resonating voice and obviously loves what she does, this being her first showcase, although she has been on the circuit for a while. Queen and Adele are easily handled in her repertoire. Guitar/vocalist Danny King proved himself to be another highlight. From George Ezra's Shotgun he segued  into Sultans of Swing in which he showcased that as well as having a fine voice, he can also really play his instrument. His voice is versatile too, with a wide range capable of convincing interpretations of Elvis and Roy Orbison. Quite a talent.
Although late in the evening, Sean Johnson kept the crowd awake, making an immediate connection with his huge personality, reminiscent of a cross between John Goodman and the Big Bopper. Another seasoned pro, Johnson can present various styles, finishing with a rousing Sweet Caroline.
And finally Karina and the Slaves, fronted by a lady who works really hard, leading the band in keeping the room buzzing with favourites like Love Shack and Highway to Hell.
Vern Allen can also supply all AV requirements, plus his acts can be booked via a highly efficient online system.
SESSION TWO
The second night of this marathon event hit the starting blocks in customary style with Meet & Greet performers Wyn Jones and Sean Moon working the room, whilst acoustic based trio The Gatsby Gunrunners provided excellent background music. My kind of band, stripped down and earthy; great image too. Once again Noel Brodie tirelessly provided the MC-ing duties in his reliably entertaining manner, introducing opening act Tokyo Joe, a quartet which includes a double stack keyboard. They have obviously been in the game for a long time and can cut the mustard, but they favour a distorted sound alongside throaty, laid back vocals. The classical intro and interesting arrangement of Roll Over Beethoven was impressive.
Singer Lisa Winwood surfs the stage, her high, clear range made distinct with a natural use of vibrato. Her repertoire covers all kinds from Jersey Boys to Lady Ga Ga.
Stevie Jay Johnson is more than just a fine vocalist because he does move well whilst including some unexpected visual, self deprecating humour within a tight set of songs from George Ezra, The Killers and Queen. A true entertainer.
Welcome stand up comedy from Nick Page who embraces a deliberate dead pan, scruff image. He has some clever, original lines and a brand of unashamed honesty which made me slowly warm to him. I was eventually completely won over when the fire alarm went off and he handled the situation hilariously, leaving the stage amidst massive laughter and respectful applause.
Wyn Jones, who had also been meeting and greeting earlier, is a traditional kind of comedy magician who comes over with warmth, supported by some good material. He uses cod prediction and an audience volunteer for ventriloquism, incorporating the mask routine which nearly all vents seem to include nowadays.
Forever Free are a tight 4 piece combo who feature the music of Led Zeppelin, Free and Bad Company. The front man has style and a strong rock voice, but his hairy image does not match the blandness of the others who look like they belong in a different band. They play authentically, however.
The deep, sultry voice of Chloe Hawkins is made for rock and blues, as notably underlined in her rendition of Walking in Memphis. For her last song she was joined by a young man on acoustic guitar for a simple rhythmic number which required no other backing. As intimated earlier, I am a particular fan of this kind of raw sound.
The young man in question was Mike Ritchie, and he remained on stage for his own spot. He kept it pure, and it was refreshing to hear someone sing and play so powerfully; Freddie Mercury and Ed Sheeran, without electronic backing tracks swamping things.
Magic and illusion far eastern style from veteran performers Tensai, complete with cockney overtones! A slickly presented old school act which still works well, complementing any bill with a riot of spectacular colour.
Dave Jerome's Freddie Mercury tribute ticks the boxes for Queen Fans as he enthusiastically takes on the persona. He has the moves and wisely sends himself up with some fun audience participation, but, to be fair, Freddie's amazing voice is a hard thing to recreate.
Keeping it Kylie; a self explanatory name for a bright act which features a slim, pretty, petite young lady who looks the part as she beams pleasantly, gyrating and singing her way through the catalogue of Ms. Minogue.
Newcomer Lucie Dee opened with the Winehouse classic Valerie, moving swiftly to Crazy Little Thing Called Love with a cheerful presentation and pleasant voice. She knows her job.
With the novelty of a screen showing introductory silhouettes, Linzie Wishart is billed as a Multi Comedy Tribute, sending up the image of Turner, Bassey and Lady Ga Ga with a single visual bowed legs gag and mugging. A strong singer, but the laughs were a tad thin.
Another self explanatory turn in I'm Every Whitney, a very relaxed, classy act presented by this striking looking lady who belongs in the spotlight. Most importantly, she possesses the same powerful vocal range of the legendary Ms. Houston, passing the test with flying colours on hits such as I Wanna Dance With Somebody.
A hard act to follow, but Rebecca Chew rose to the occasion.She fronted the band Monotonic on the previous evening, but solo she really comes into her own. Dressed elegantly in black and with her engaging smile, she looked like a star, and sounded like one. She sold I Just Wanna Make Love To You particularly well, melting many a heart, I'm sure.
Young girl/boy duo Vocals Attract have obviously worked hard putting together a polished act with crisp, tight harmonies. The girl reminded me of Lena Zavaroni at her best (showing my age there!) and the boy already knows how to work an audience. Modern songs and old favourites too. Very promising.
Lois Lonsdale is a passionate and fiercely energetic little firebrand who pours heart and soul into her songs. She is what would traditionally be known as a "belter", and I mean that as a compliment. Proud Mary was a welcome tonic for this late night crowd.
And then an '80's show from Darren Darren (play on words… Duran Duran… get it?). He got a huge laugh when he came on resembling a mulletted ice cream salesman, but the send up aspect was soon over ridden by the fact that he can sing exceptionally well. Funny but essentially musical, this is terrific entertainment and a guaranteed floor filler.
Finally, the last act, and a difficult placing, but Terrie May's experience won the die hards over instantly. Based back in the UK following a long cruising career, her huge repertoire covers the decades. From a slinky jazz number to a rocking River Deep, Mountain High she delivers a strong spot.
So, hats off to Vern Allen for two nights of superb and varied entertainment encased in a most impressive package of tip top production values.